In February 2011 the BBC's Strategy for Children's Audio wrote off a core duty to provide children with public service radio and all content for listeners aged under-seven was replaced with 15 minute podcasts. This disadvantages those in homes without the internet, who may be the most needful group of listeners.  Remaining radio for children aged seven to 14 years was re-launched as 'family hours' on R4Extra – the official home of horror, sci-fi stand-up comedy.  Of the £640.1 million annual budget for BBC domestic radio, under £1million is reserved for children, who now have less licence-funded radio than 'Children's Hour' provided in the 1940s when the Home Service was the only delivery platform.
'Radio Waves', Sunday Times, CULTURE, 21/10/2012
Paul Donovan laments the BBC's sorry record in providing radio for children and highlights the widespread concern about young children's listening and language deficit, which can be so damaging to their social life, education and employment.
Today's children have less licence-funded radio than 'Children's Hour' provided in the 1940s when the Home Service was the only platform of delivery and,  of the £640.1million annual budget for its domestic radio services, less than £1m is reserved for what the BBC now calls 'family listening'.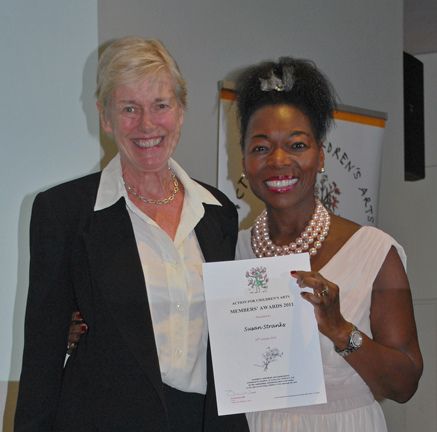 Susan has campaigned tirelessly for the right of children to have provision for their own national public service radio network. Over many years, she has voiced the benefits of radio in the lives of children and kept the campaign going despite many setbacks and is now making a real impact. She created and coordinates the Sound Start Group which is backed by a long list of writers, composers, broadcasters, politicians, educators, parents and children. Susan is a true children's champion. Her passion and dedication to the creation of high quality children's radio deserves praise and recognition.
Susan Stranks, presses for public service children's radio network …
An event hosted by the Media Society at the Royal Commonwealth Society, last night [12/09/2012] "What Next For Radio?" focused on ways to attract the generation of tech-savvy teenagers to the medium.
Chair: Tim Collins – senior producer, The Jeremy Vine Show BBC Radio 2
Panel: Matthew Bannister – presenter 'Last Word' Radio 4 and 'Outlook', BBC World Service;
Jumoké Fashola – presenter 'Inspirit', BBC London & Ronnie Scott's Radio Show on Jazz Fm;
Mark Goodier –broadcaster for Smooth Radio and owner of Wise Buddah;
John Myers ­– CEO The Radio Academy, chair of Sony Radio Awards committee.
A radio diet of songs, stories, rhymes and word games would encourage essential listening and communication skills amongst young children across the UK. It would help immigrant families learning English as an additional language, and also be a service to teachers and language therapists. Read more
The Asian Network should be replaced with an inclusive radio network to serve and support young children and their families in all our communities.
What they say:
"…one of the difficulties of the Asian service is its concept. It broadcasts in a number of different languages to an audience that varies from younger to older [listeners]."
"It is trying to cater for many disparate groups simultaneously. We are wrestling with how to best serve this audience and whether one whole network is the right way to do it."    
New research has placed the need for a radio network for children on a par with Radio 4Extra, casting doubt on the BBC's radio policy.

A question was placed on Capibus,  Ipsos MORI's face to face omnibus survey, for the Sound Start Group of parents and educators who are lobbying for a children's radio network. When shown a list of 6 national radio stations funded by the licence fee, an equal percentage of the British public [23%] thought that National Children's Radio and R4extra [formally R7] are most important for the British public to be able to listen to. This was followed by 5 Live Sports Plus [18%]; 6 Music [15%]; R1Extra [11%] and the Asian Network [seven per cent]; 17% did not know and 21% thought none were 'most important'.
The BBC has refused to re-think radical cuts to its children's radio services.
The Baroness Warnock, chair of the Sound Start Group of educators, met Trust Chairman, Lord Patten, last month to recommend a review of the BBC's Strategy for Children's Audio, which wrote off the core service remit to provide children with advertisement-free radio.
A meeting held by the Sound Start Group at the House of Lords on Monday [09/15/2011] has called for a review of the cuts to BBC Children's Radio.
Speakers included Baroness Warnock, Baroness [Floella] Benjamin, with Baroness Howe, in the chair. Former 'Magpie' presenters, Susan Stranks and Mick Robertson, joined the meeting which also hosted authors, educators, musicians and child-care specialists.
The BBC's  Strategy for Children's Audio was approved by the BBC Trust in February.  It reduced children's radio hours by 75% and moved 50% of funding to adult programmes. This has left £1m for children from the £460m p.a. licence-funded radio budget, in contrast to average cuts of 16% to 20% across other BBC departments.
A radio network for pre-school and primary school aged children and their families has polled higher than the BBC's five digital stations, as being important for the British public to be able to listen to.
Capibus, the Ipsos MORI face-to-face omnibus survey, showed 23% of participants thought a children's service to be the most important ahead of 5 Live Extra [sport] at 19%; R7 [adult speech] at 17%; 6 Music [Pop music 70's – 90s] at 16%; Radio 1Xtra [Black Music] at 9% and the Asian Network at 7%.