At the 10th Children's Media Conference [CMC] in Sheffield, last week, children's broadcaster, Susan Stranks, slammed the BBC's withdrawal from children's radio. Ms Stranks, who coordinates the Sound Start Group, which campaigns for children's radio, said "Children need the full range of cultural experience. A dedicated radio network can enhance their lives, nurture home grown talent and seed other media, such as film, TV and publishing. The BBC argues children may no longer be able to listen without visual stimulation but this is damaging nonsense!" Read more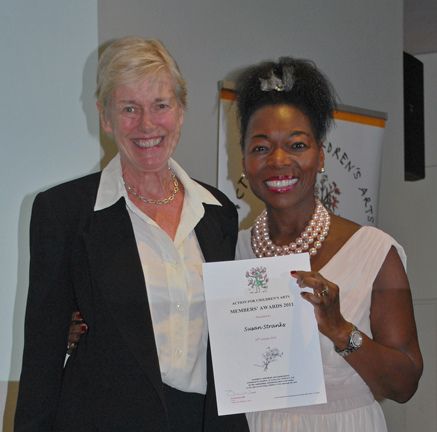 Susan has campaigned tirelessly for the right of children to have provision for their own national public service radio network. Over many years, she has voiced the benefits of radio in the lives of children and kept the campaign going despite many setbacks and is now making a real impact. She created and coordinates the Sound Start Group which is backed by a long list of writers, composers, broadcasters, politicians, educators, parents and children. Susan is a true children's champion. Her passion and dedication to the creation of high quality children's radio deserves praise and recognition.
The Michael Palin Centre for Stammering Children is running a Stammering Information Programme whose aim is to raise awareness within the education system in England of the impact of stammering on the lives of young people. This 2-year project is Government funded and will be completed in December 2010. The Michael Palin Centre's team of expert therapists has produced a short DVD entitled "Wait, wait, I'm not finished yet….", together with comprehensive advice leaflets.
The "Let's Make Radio" workshop was introduced in 2002 and gives children the valuable opportunity to create their own radio programmes.  Its purpose is to encourage children to use their imagination and gently promote their ability to listen attentively and perform with confidence whilst they can also learn some of the essential techniques associated with radio production.  The most recent event took place at Brighton's Jubilee Library and invited children aged five to ten years to produce a special Halloween play 'Sam and the Giant Pumpkin', and to read their favourite stories and poems. Read more